Fishermen On Tour
27 november 2021 – 25 februari 2022
An (free) outdoor exhibition, along four places, where you can meet 12 Fishermen from Scheveningen, captured by photographer and video documentary maker Roderik Rotting.
Go on foot or by bike, scan the QR-code on the portraits and listen to the personal stories told by the Fishermen themselves. They reveal what it's really like to be a fisherman at Scheveningen, about the challenges and pleasures, joy and sorrow, high seas and the mainland: salt and sweet.
Discover the hidden gems, while you're walking. In the brochure, the participating local entrepreneurs offer you special 'Fishermen On Tour' deals, highlighted in the map. These brochures are available free of charge at Muzee Scheveningen, Haagsche Stadsfiets, Viswinkel de Lange, Appeltje Eitje, De Snoeshaen, De Maatschappij, Tante Knier, Studio Scheveningen, Simonis on the boulevard and De Pier. View the map below!
We invite you to walk the entire route, but you are also more than welcome to visit the exhibition called Fishermen Salt & Sweet at Muzee Scheveningen. On display until February 28th, 2022.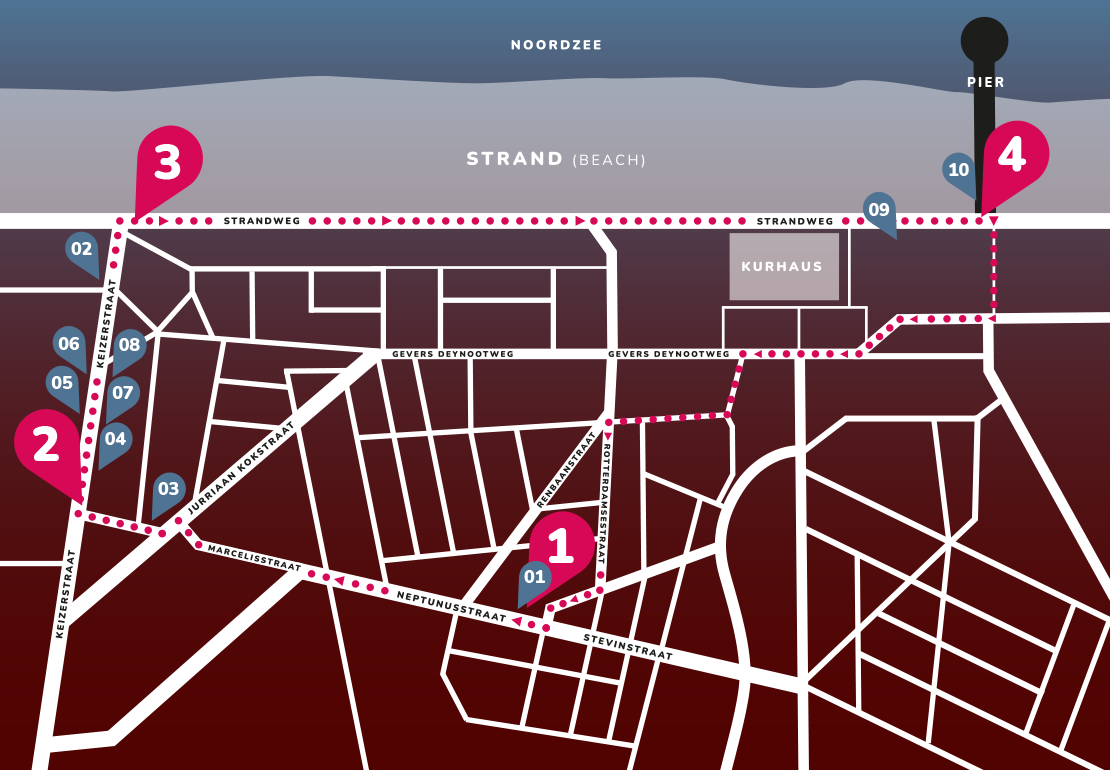 Participation local business + 'Fishermen On Tour' deals:
(upon presentation of the Fishermen On Tour brochure) 
1. Muzee Scheveningen
Visit Muzee Scheveningen and drink, perhaps with one of the Fishermen, a jenever in the sailor's pub! Address: Neptunusstraat 90-92
2. Haagsche Stadsfiets
Don't feel like walking? Rent a bike here, upon presentation of the brochure you will receive 10% discount! Address: Keizerstraat 27
3. Viswinkel de Lange
A delicay from Scheveningen: fresh herrings. Upon presentation of this brochure you will get 5 herrings for only €5. Address: Marcellisstraat 37B
4. Appeltje Eitje
Delicious for in the cold winter months: a piece of fresh vegetarian quiche with a warm mulled wine. Together only for €5. Adres: Keizerstraat 124
5. De Snoeshaen 
Order a Hermit Dutch Coastal Gin Tonic! Mediterranaen tonic, grapefruit and samphire for only €8.5. Address: Keizerstraat 97
6. De Maatschappij
Order a drink and receive free luxury bites from Scheveningen! Address: Keizerstraat 67
7. Tante Knier
Order a portion of king prawns from €12.95 – now for only €5. Address: Keizerstraat 56
8. Studio Scheveningen
Take home a nice souvenir! A mini Fisherman and Fisherwoman with €1 discount. Address: Keizerstraat 50
9. Simonis op de boulevard
What's better than a fresh portion of fried fish (kibbeling). Get one here from €6 now for only €5. Address: Strandweg 77-79
10. De Pier
Take a little break with a good cup of coffee and apple pie for €5. Address: Strandweg 150-154
Listen to the audio clips from: