Volunteers
The volunteers of Muzee are a permanent part of our collection. Many of them form an important source of historical knowledge about life on Scheveningen and working in the fishing industry. In addition, they have an important added value in the atmosphere and guidance of visitors and they ensure a strong bond between the museum and Scheveningen.
What tasks do our volunteers work on?
Volunteers in Muzee work on a myriad of different tasks within the museum. The most visible are those working as hostesses and guiding visitors around the museum. Their knowledge and passion for Scheveningen makes each visit unique. Moreover, volunteers also help with catering, running the museum shop, maintaining the gardens and aquariums but also working in the office on publicity, education, production and administration.
What do volunteers gain from the experience?
By volunteering at Muzee Scheveningen, you become a crucial part of a professional museum. You will have the opportunity to gain work experience, and take a look at the behind the scenes of the running of the museum. You will also meet many passionate people from Scheveningen who share a passion for the region and for Muzee itself. In our newsletter, which is sent out every two weeks, we will also keep you up to date on all that is going on within Muzee.
We expect our volunteers to be active participants of the museum and very involved. Upon being accepted as a volunteer, you will also receive a volunteer contract.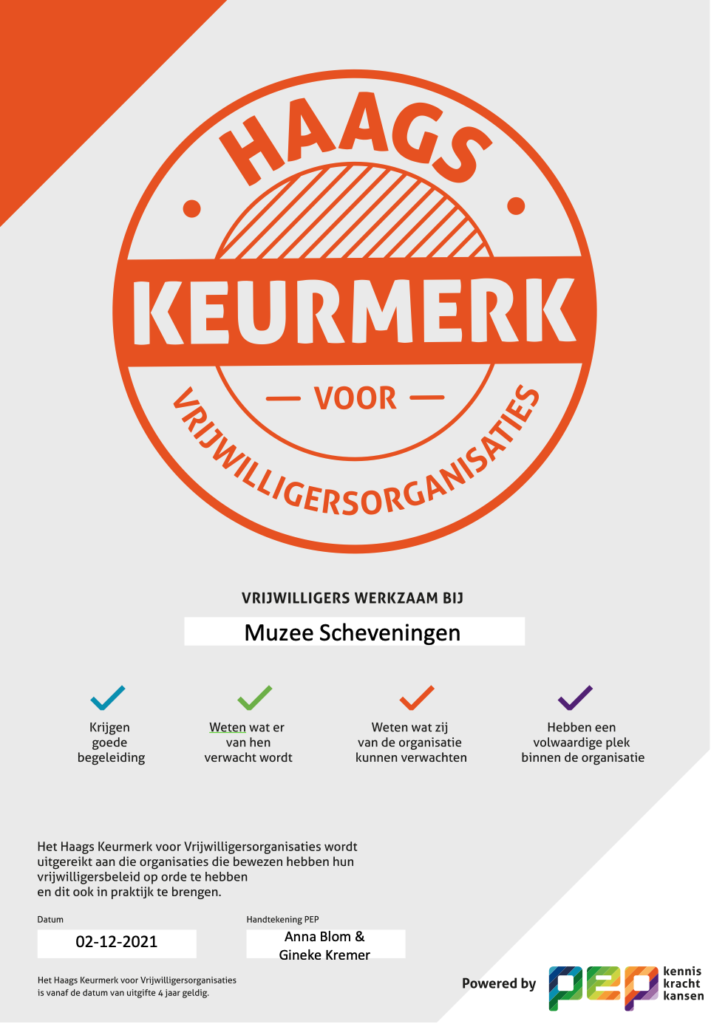 Would you like to join us as a volunteer? Sign up!
We are always on the lookout for new enthusiastic volunteers to join our team and help out by guiding visitors, helping with production, catering and much more. Take a look at our open vacancies or send an email to Sarah van Soldt at [email protected].